Russ Russell and Cecil Ashburn - A lasting legacy
---
Cecil Ashburn Drive will close January 7, 2019 for 10 months. Remaining work is expected to be completed six to eight months later with all lanes open by May 2020. The 3.4 mile project will ultimately convert Cecil Ashburn Drive into a four lane divided highway, including paved shoulders and bike lanes in both directions.
Key Alternate Routes:
• Governors Drive via U.S. Hwy 431
• U.S. Hwy 72 via Eastern Bypass/Rock Cut Road
• Memorial Parkway (US 231) via Hobbs Island Road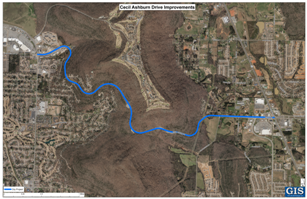 The road is over capacity with 17,000 vehicles per day and by 2012 had recorded 782 accidents and 11 fatalities. The road was opened in January 2000 and named after James Cecil Ashburn in January 2002.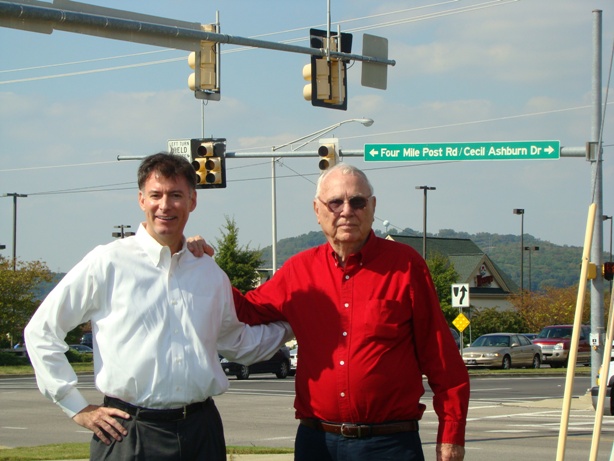 Russ Russell & Cecil Ashburn at the intersection of Four Mile Post Road and Cecil Ashburn
Drive, June 2011.
The picture above is of me and Cecil Ashburn in 2011. Cecil was my friend and I picked Cecil up one day at his house on Monte Sano Mountain and asked him to show me around my hometown. We rode all over Madison County and some of Morgan County as well. Cecil told stories all day and we drove some of the very roads he had built like U.S. 72 West and much of Memorial Parkway.The road was built in the late 1990s and opened to traffic in January 2000 as a quick way for the fast-growing Hampton Cove subdivision to access Huntsville. The City of Huntsville named the road after James Cecil Ashburn in January 2002.
James Cecil Ashburn Bio
James Cecil Ashburn (Cecil) was born on June 8, 1920 in Madison County, Alabama to his parents Robert and Ola Ashburn. Cecil was a graduate of Riverton High School. In October of 1940 Cecil enlisted in the U.S. Army prior to the United States entering the Second World War. After brief stints at Camp Shelby, Mississippi and Camp Claiborne, Louisiana he was sent to Engineers School at Fort Belvoir, Virginia. While there, as part of his training, he visited the construction of the Pennsylvania and New Jersey Turnpikes. It was here that the seed was planted in his mind about forming a road building company after his military service was over. In January of 1942, Cecil was sent to the aptly named Cold Bay, Alaska in the Aleutian Islands to build a runway and supporting infrastructure for an air base. It was here he had his first hands-on experience and honed skills that he would put to use later in his business career. While serving in Alaska, Cecil entered a burning building and rescued a fellow soldier while suffering burns to himself. In recognition of this, the Army awarded him the Soldiers Medal, the highest non-combat medal.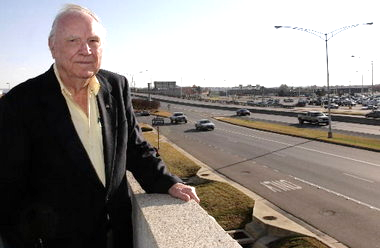 Cecil Ashburn poses alongside Huntsville's Memorial Parkway in this 2005 file photo. His company, Ashburn & Gray Construction, built the Parkway -- and many other major roads across North Alabama. (The Huntsville Times/Robin Conn)

In 1943 Cecil returned to Fort Belvoir, Virginia for school where upon graduation he received a commission as an officer. He was thereafter assigned to the European Theater of Operations until his service ended in December of 1945. In early 1946 Cecil, along with Emmet G. Pat Gray formed the partnership of Ashburn and Gray in Huntsville.

At that time Huntsville was a city of one square mile. They started out with an Army surplus drag line and bulldozer. By the late 1950s Ashburn and Gray had become one of the largest road building contractors in the state with branch offices in Decatur and Guntersville and with jobs spanning all of North Alabama. Ashburn and Gray played an important role in the expansion of Redstone Arsenal as Redstone was in the forefront of our country's missile and space programs. Ashburn and Gray also played a primary role in the construction of the runways and roads serving the Huntsville Airport.
During his career, Cecil witnessed Huntsville grow from its one square mile to a city of over 170 square miles. Cecil played an active role in promoting safe highways. Together with his lifelong friend, Congressman Bob Jones, he worked hard to develop the authorizing legislation for the Interstate Highway system and the Appalachian Road Commission. In the early 1950s Cecil joined the Alabama Road Builders Association where he served on the board for many years. In 1962 he served as the President of the Association. He also served as a Director of the American Road Builders Association. Cecil was a co-founder of the Alabama Asphalt Plant Mix Association and served as its President. He also served as a member and Chairman of the State Licensing Board for General Contractors. Cecil was appointed to the Huntsville City School Board in 1958 and served as Chairman in 1962. He also served on the City of Huntsville Electric System Board for nine years, three as chairman. In 1993 Cecil donated 120 acres to Madison Academy for construction of their new campus. They named their new facilities, The Ashburn Campus, in recognition of his contributions. On January 22, 2002 Cecil had the distinct honor of having a road named after him by the Huntsville City Council. Cecil Ashburn Drive crosses Huntsville Mountain then on to Big Cove near Cecil's old family homestead.
In May of 2003 Cecil was inducted into the inaugural class of the Alabama Road Builders Association Hall of Fame. Cecil maintained his residence atop Monte Sano Mountain overlooking Huntsville, the city he played such an integral role in building. Ashburn passed away in July of 2012 leaving a lasting legacy for Huntsville and its residents.

Resource: Wikipedia
---